CATIA V5 Complete Projects Tutorials Mechanism Design & Animation!
The objectives of these projects are to create a start-to-finish Mechanism tutorial with different Types of Excellent CATIA V5 Projects from the Basic Level To Advance Level.
These All Listed projects Mechanism are taken from Expert of CATIA V5 which will Help you to Understand all key concepts of the CATIA V5 mechanism.
Those Who are interested in CATIA V5 and want to Become expert in CATIA V5 then these Projects are for Those Students.
Note That Basic Knowledge of CATIA V5 is Required for All Listed projects. You Can Download This premium CATIA V5 Complete Projects Mechanism By Paying some amount of Cost.
We're glad that you found what you were looking for. It is our goal that you are always happy with what you bought from us. If You Would like to Get an Expert in CATIA V5 then  Buy all Project and start Practice from today.
"It is not fair to ask of others what you are not willing to do yourself."
We look forward to seeing you again…
*Package Contains All Listed projects With Complete Mechanism*
Camshaft and Roller 
Cartesian Robot
Cylindrical Robot
Double Mechanism
Four Bar Mechanism
gear (1,2,3)
Helix Groove
Joint Arm Robot
Polar Robot
Rack Pinion
SCARA ROBOT
Shaft Coupling for shaft out of line
Shaft Transmission
Vertical translating platform

Subject/Paper & Purchase Link      
Buy All Listed

CATIA V5 Projects

 (

-35% Off 

)( Soft Copy to Your Email Id,

Delivery Time 1 Day

) 

Buy @ 200
Demo Preview Screenshot Of Some Listed CATIA V5 Projects…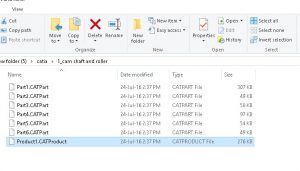 Video Demos Of Some Listed CATIA V5 Projects…
---
---